Live: "Monoglot"
Indie-Alternative-JAZZ-Punk aus Basel/CH
Get Rhythm #19
50's Rock'n'Roll & Rockabilly by Midnight Monsters Hop
Vernissage ab 21h in der Galerie
Musik: Helmut Pötsch & Stephanie Brill
Sonntags...Reggae...
mit More.Love.Sound & Soundfyah Intl.
Live: "The Devil and The Almighty Blues"
Blues Rock from Oslo (NO) - slow, heavy, melodic and raw - support-DJs Toni & Luca
6. DADAMENTA
Kunstaktion im Rahmen der DADA-DEKADE 2012-2022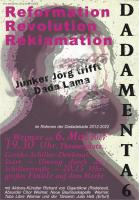 Live: "Yellow Fin"
Jazz aus Basel/CH
April
---
Montag
24.04.17

LIVE

: "Monoglot" (Basel/CH)
JazzRock
Dienstag
25.04.17
Hanny
Oldies but Goldies
Mittwoch
26.04.17
sh.taro & Mitch
Studentenfutter
Donnerstag
27.04.17
Nurse & Goofy Cutz
Soul, Funk, Rap
Freitag
28.04.17
Asbachtal
QuerBeats
Samstag
29.04.17
Midnight Monsters Hop
50' Rock'n'Roll & Rockabilly
Sonntag
30.04.17
Soundfyah Intl. + More-Love-Sound
Sonntags-Reggae
---
Mai
---
Montag
01.05.17

LIVE

: Free Session mit Stud.d.HfM
Jazz o.ä.
Dienstag
02.05.17

LIVE

: "The Devil and the Almighty Blues" (Oslo/NO)
Heavy Blues Rock
Mittwoch
03.05.17
Ras Rambo inna Caribbean Style
Studentenfutter
Donnerstag
04.05.17
boxxfrogg & pull:180
DnB #76
Freitag
05.05.17
Mr. Filz
House vs. Trash Disco
Samstag
06.05.17
Tuffer Gong HiFi
Bass To Addis
Sonntag
07.05.17
Soundfyah Intl. + More-Love-Sound
Sonntags-Reggae
Montag
08.05.17

LIVE

: "Yellowfin" (Basel/CH)
Jazz
Dienstag
09.05.17
iZe
Frank Zappa Special
Mittwoch
10.05.17
sh.taro – World Wide Vibes
Studentenfutter
Donnerstag
11.05.17
Freitag
12.05.17
StudiBeatz #34 – mit Shekinah
HipHop, Black, Soul, Funk
Samstag
13.05.17
Cartesian
Elektronische Musik
Sonntag
14.05.17

LIVE

: "La Minor" (St. Petersburg/RU)
Odessa-Beats, Russen-Ska
Montag
15.05.17

LIVE

: "Géllert Szabó Trio" (HfM)
Avantgarde
Dienstag
16.05.17
GeHeimrat
70er Ost-Rock
Mittwoch
17.05.17

LRGMN

No Bad Vibes
Donnerstag
18.05.17
Tune Corp.
DnB
Freitag
19.05.17

LIVE

: "The Instant Voodoo Kit" (Würzburg)
Gypsy Swing Cabaret +BBE
Samstag
20.05.17
sh.taro & Phantom Breaker
Pumpin' Internationals
Sonntag
21.05.17
Soundfyah Intl. + More-Love-Sound
Sonntags-Reggae
Montag
22.05.17

LIVE

: "Styx-Quintett" (Alt-Weimar)
Fusion Jazz
Dienstag
23.05.17
Luca
Heavy Rock
Mittwoch
24.05.17
sh.taro & Mitch
World Wide Vibes
Donnerstag
25.05.17
geschlossen ?
Freitag
26.05.17
Asbachtal
QuerBeats
Samstag
27.05.17
Snazzy Grrrlz
Rap & R'n'B from outta space
Sonntag
28.05.17
Soundfyah Intl. + More-Love-Sound
Sonntags-Reggae
Montag
29.05.17

LIVE

: Free Session mit Stud.d.HfM
Montags-Jazz o.ä.
Dienstag
30.05.17
Hanny
Oldies but Goldies
Mittwoch
31.05.17
iZe
Doom Funk #25
---
Juni
---
Donnerstag
01.06.17
boxxfrogg & Co.
DnB #77
Freitag
02.06.17
DiscoDevil
didn't ask about
Samstag
03.06.17
LA

RZN

(HB), Marco (

ESP

) & sh.taro (WE)
Bailatoni #42
Sonntag
04.06.17
Soundfyah Intl. + More-Love-Sound
Sonntags-Reggae
Montag
05.06.17

LIVE

. "Yochai Noah Sadeh Trio" (Leipzig)
Jazz
Dienstag
06.06.17

LIVE

: "Tempest Men" + "Fooks Nihil" (WI)
Psychedelic Rock & Folk
Mittwoch
07.06.17
StudentenFutter
Donnerstag
08.06.17
Freitag
09.06.17
StudiBeatz #35 – Hardtlack e.V.
Techno & House
Samstag
10.06.17
Mo & Co.
Afro Beats #10
Sonntag
11.06.17
Soundfyah Intl. + More-Love-Sound
Sonntags-Reggae
Montag
12.06.17

LIVE

: Yongdae Yun Band (HfM Weimar)
Montags-Jazz
Dienstag
13.06.17
Mittwoch
14.06.17
StudentenFutter
Donnerstag
15.06.17
Tune Corp.
Drum'n'Bass
Freitag
16.06.17
Lautlos (Artern)
House & Discohouse
Samstag
17.06.17
P.E.V. & B.E.E.
Disko Partizani #37
Sonntag
18.06.17
Soundfyah Intl. + More-Love-Sound
Sonntags-Reggae
Montag
19.06.17

LIVE

: "Felix Käppner Trio" (HfM Weimar)
Singer-/Songwriter-Blues/Folk/Jazz
Dienstag
20.06.17

LIVE

: "Crimson Oak" (Fulda)

Heavy Blues Rock
Mittwoch
21.06.17

LRGMN

StudentenFutter
Donnerstag
22.06.17
Freitag
23.06.17
Jan Witte & Nurse
Disco & House
Samstag
24.06.17
Midnight Monsters Hop
50s Rock'n'Roll & Rockabilly
Sonntag
25.06.17
Soundfyah Intl. + More-Love-Sound
Sonntags-Reggae
Montag
26.06.17

LIVE

: "Windisch" (Bern/CH)
Jazz
Dienstag
27.06.17
Mittwoch
28.06.17
sh.taro & Mitch
StudentenFutter
Donnerstag
29.06.17
Nurse & Goofy Cutz
Soul, Funk, Rap
Freitag
30.06.17
Asbachtal
QuerBeats